I was searching the Old Bailey site which contains the proceedings of London's criminal court, and ran into something interesting: Antonio Panizzi was there three times, in each case called as a witness in disputes concerning the Library of the British Museum.
Reading Room of the British Museum Library
The first time he was there was November 29th 1841 concerning a case of theft, conducted before Baron Alderson.
Two charges had been brought against Charles Wilcox, whom Panizzi accused of stealing books. At the British Museum Library, readers were not allowed to browse the shelves but had to ask for the books to be brought to them, and then had to return the books when they were finished. Books could not be taken home. In the library at about 4 o'clock, Panizzi confronted Mr. Wilcox, and according to Panizzi,
I went up to him as he was going out at the door, and told him I wanted to speak to him—he came with me into the library—I had two books in my hand out of three which he had had—I said, "You had three of these books, and have returned two, what have you done with the third?"—he said he did not know, he might have forgotten it, left it on the table, or some-body else might have taken it away—he wanted to go and look for it—I said, "No, we must find the book first"—he then said, "Why, if it be lost, I will pay for it"—I said, no, that would not do—he then said, "Do you suspect me?"—I said it was very awkward, he had had some of our books, and I mentioned two which he had had, one on the 24th of July, and another which he had had two or three days before, which were both missing—he said he knew nothing about them…
Panizzi then called the head of the library, Sir Henry Ellis, and told him the story. They called for the police and while they were waiting, Mr. Wilcox pulled the book out of his greatcoat.
… he had a great coat on, and he put his hands under his great coat—I am certain it was taken out of his pocket, because it was not visible before, and I saw the motion of his hand about his pocket—the fourth volume of Carlisle's Miscellany is now in the Museum—it was once absent, at least we could not find it, and it was afterwards found in the Museum.
This was not to be the end of the matter however. The defense called Rev. Edward Holmes Morgan, who attested to Mr. Wilcox's good character, and went on to say that Mr. Wilcox had actually shown him the book twice, mentioning that it came from the British Museum. Afterwards, Rev. Joseph Ketling also "deposed the prisoner's good character."
Verdict: Not guilty. A verdict that probably did not make Panizzi very happy.
I initially assumed that this was simply a case that the fellow wanted to read the book in the comforts of his own home. If this happened today, and Mr. Wilcox had a computer or tablet–and most importantly, he knew about it all–he could have downloaded his own copy for free from Google books.
This was still not the end of the story and it now becomes a bit more troubling ….
Panizzi had accused Mr. Wilcox of stealing other books. Remember, he said
… I mentioned two which he had had,  one on the 24th of July, and another which he had had two or three days before, which were both missing…
After the previous case, Mr. Wilcox was immediately brought up on those other charges. Panizzi testified:
On the 23rd of October the prisoner was taken into custody at the British Museum—before that two books called "The Hunchback of Notre Dame" and "The Baronet" were discovered to be missing from the library—those now produced are them—they are the property of the Museum—it is usual to affix marks on the books belonging to the Museum—there is generally a mark put on the title-page—this book, "The Hunchback" had three title-pages, being in a collection, and in one of them was a mark, and that title-page is torn off—another stamp was also put at the end of the book, and that is also torn off—the "Baronet" has also the appearance of having had the title page torn out—I see no alteration of any thing at the end—the two books are worth about 5s.—in consequence of a communication made to me by some of our officers I went to Mr. Hewitt's, a bookseller in Holborn, and found "The Baronet" on a shelf there—the other volume had been brought to me previously.
For those who may be interested, here are some examples of press marks belonging to the Museum.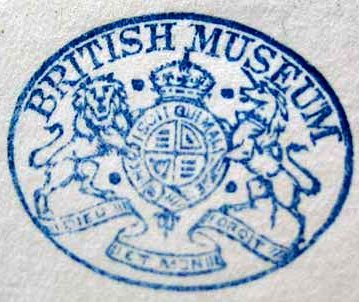 Panizzi went with a police officer to examine Mr. Wilcox's room, and they found some British Museum reading tickets for the books. These reading tickets were receipts for borrowing and returning materials. Below is another ticket from what was around that time.
The bookseller, Mr. Hewitt, picked out Mr. Wilcox from a lineup as the man who had sold him the books. The final bit of evidence from Panizzi was that the books still had the press marks, or the call numbers, that denoted their locations in the Library.
Verdict: GUILTY. Confined One Year.
It is only now we learn that Mr. Wilcox was 23 years old.
Although I can find no more about Charles Wilcox (there are several people with that name in the Old Bailey's site), he was sent to prison for one year. I had a couple of questions:
How much is 5 shillings worth today?
What did it mean to be a prisoner in London at that time?
To find out how much 5 shillings would be today, there is a site MeasuringWorth.com where you can find out. I put in the values of 5 shillings in 1841 and 2015, and, comparing the retail price index, it comes out that it would be worth £20.30.
Punishment in London is quite a topic. Although not the torture chambers of earlier times, Victorian prisons were still not very nice places. See the page Victorian Prisons and Punishments from the British Library. I was surprised to see the prisoners all wearing masks. Although I do not know if this was Mr. Wilcox's punishment, forcing the prisoners to wear masks was part of a punishment popular at the time, called The Separate System. It was a type of solitary confinement designed to make the criminal reflect on his transgressions so as to raise his moral compass.
This included prison architecture. For instance, some prison chapels were designed so that the prisoners could see only the chaplain, but not each other.
Mr. Wilcox may also have been placed onboard a prison ship, which floated in the Thames. They did this because of overcrowding. They also practiced The Separate System on those boats.
Prison ship from The Criminal Prisons of London by Henry Mayhew
I am sure that Mr. Wilcox regretted meeting Antonio Panizzi.